♪Finally Here!!♪
Yessss I am finally here!!! In Ichihara, Chiba, at my aunt's family's house.
On the plane, I sat next to this middle aged man. I gave him some gum.
After twelve hours of constant sitting (and watching "The Devil Wears Prada"), we finally got into landing, and the first thing I thought, staring as the toy-like buildings and rice paddies got bigger and bigger, was "What the #$'&%#"#&%)(' am I doing here!!!????" And then I looked at the grass and knew I wasn't home anymore. More than the fact that this was Japan, and everyone speaks Japanese, and everything is written in Japanese, and everyone is Asian, nothing convinced me more than the grass.
This place, it feels foreign, but at the same time, it is not. I can read everything, speak everything, write everything, so I guess I never got over the "Oh Japan? It's just like the Mitsuwa Market, except bigger" mentality.
I landed at 4:20 but due to miscommunication, couldn't get to my cousin and uncle who came to get me until two hours later (our mothers were just... so... optimistic... my mom only told my aunt "Oh, she'll be arriving at around 4:30pm on American Airlines." No flight number, nothing else). Then we met up with Auntie and the other cousin and went out to sushi. My cousins are both girls, one is about 26 and just got married to a Coloradoan, and my other cousin is nineteen, going on twenty in a month.
The Coloradoan husband, looking at the menu, exclaimed, "Oh, there's whale!!" which cracked me up so much. I thought it was illegal!! I said.
So cousin the younger asked the both of us, "What does it feel like for Americans to be eating whale?" and the Coloradoan husband answered with two words: "Panda hamburger." (Just for clarification, Japanese people don't eat whale regularly - It's still a delicacy.)
So we got whale and the husband ate whale. We all asked with sparkling eyes, "What does it taste like????"
"Whaley," was all he said.
Anyway, the sushi was so beautiful, I was so sorry I couldn't eat all of it (as I am not a sushi person). I forgot to bring my camera. But honestly, it's art on a plate.
The pictures I DID take:
LAX!!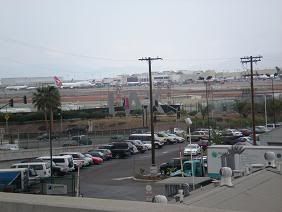 12 hours later... Narita!!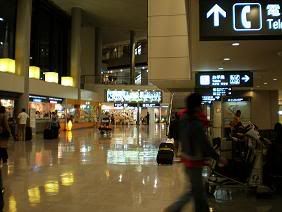 and at my aunt's house - this is to my IAG sweeties. Your crumbcake made it to Japan!!!!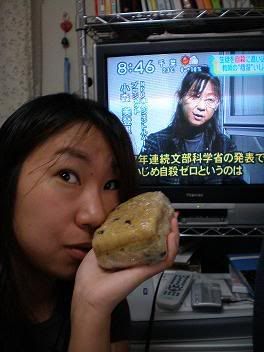 Going to Shibuya for a month (in Tokyo) on Friday!!! Excited.